In combination with Cloud, or for the preparation of preferments, chariots and carry-over pastes is born Super cloud for the preparation of bulky and alveolate doughs, for those who seek the perfection of shapes and flavors in the cornice.
Type of flour
0
Bakery
W 320/340
Proteins
13,50% ± 0.50%
Elasticity
P / L 0.50 / 0.60
Leavening
Long
Professionals Line
25 kg flours, dedicated to professionals and masters of the white art, guarantee very high performance as well as top quality results for all types of processing, from bread to pizza.
Recipes with this product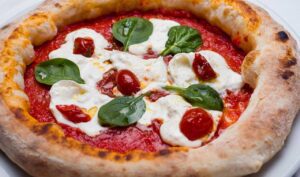 Recipes
The Origins of Pizza It can be said that pizza is the most popular dish in the world and, certainly, one of the most popular. Pizza
Keep reading "