The TubeORIGINAL creams they are the magic ingredient for make your dishes unique. You don't need to be an expert in the kitchen, you just have to follow your instinct and your desire to experiment will lead you to discover exquisite combinations and flavors never tasted before.
Have fun and dare with TubeORIGINAL is you too can experience a new taste experience. In each jar you will find only the best products, genuine and already carefully selected by us.
There Truffle selection it is a trio of jars with delicious truffle-based creams, precious and with an intoxicating scent. A real delight for lovers of strong and decisive notes.
An ace up the sleeve for all chefs and cooking enthusiasts.
The tube contains 3 jars:
Truffle Sauce (80gr)
White truffle cream (80gr)
White truffle butter (80gr)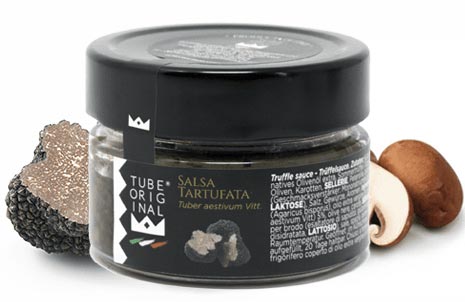 Truffle Sauce 80g
Tuber aestivum Vitt.
A unique cream to spread on croutons or add to the sauce
pasta (white ragù, tomato sauce). Magnificent with eggs and raw
Pizza.
White Truffle Cream 80g
Tuber magnatum Pico
Delicious taste to enrich risottos, cheese-based fillings for
sandwiches and focaccias, pizzas and recipes based on vegetables, eggs and fillet
meat.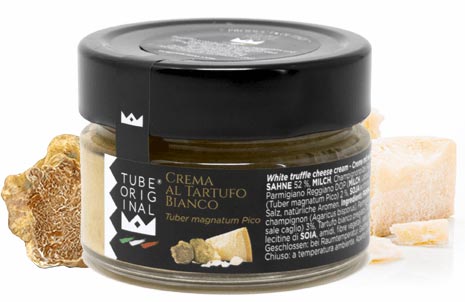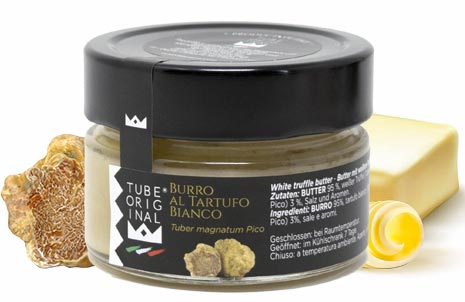 White Truffle Butter 80g
Tuber magnatum Pico
The secret ingredient for creaming risottos and pasta, for filling sandwiches
gourmet and give an extra edge to vegetables and meat dishes.