There Cook Caputo flour it has an elastic and resistant gluten, ideal for long leavening doughs. The elastic gluten and soft starch favor the formation of doughs with excellent hydration, light, with perfect leavening, satisfying the needs of the best pizza chefs. Ideal for long leavening doughs and for Neapolitan pizza.
Ingredients: Type "00" soft wheat flour
Without the addition of additives and enzymes
Contains gluten. It may contain traces of soy
Keep in a cold and dry place
Average Nutritional Values
100g
%AR * / 100g
Energy value
1,491 kj
352 kcal
18%
18%
Fat
of which: saturated fatty acids
1.5 g
0.3 g
2%
2%
Carbohydrates
of which: sugars
70 g
1 g
27%
1%
Fibers
3 g
Proteins
13 g
26%
salt
0.018 g
0%
Type of flour
00
Bakery
W 300/320
Proteins
13,00% ± 0.50%
Elasticity
P / L 0.50 / 0.60
Leavening
Long
The Caputo Mill
Since 1924, the Mulino Caputo works the wheat with generosity and passion, to offer professionals and enthusiasts of the White Art Caputo Farina of the highest quality, produced in full respect of raw materials and tradition.
Il Molino Caputo produces a wide range of flours for home and professional use. Caputo flour is used above all by professionals in confectionery dough, bread making, pasta and pizza, with many types of flours intended for different processes.
Authoritativeness, spontaneity and tradition, it is from these values that the white art of Mulino Caputo is born, which thanks to the experience gained in 3 generations of Neapolitan Master Millers, allows it to guarantee very high quality standards, to ensure that expert restaurateurs and artisans of taste best express their creativity.
Caputo flour has the ability to preserve the naturalness and authenticity of flavors to the maximum, for this and for other reasons, Molino Caputo is appreciated and recognized all over the world.
Recipes with this product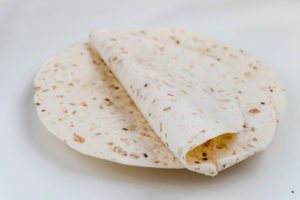 Recipes
There is nothing simpler and tastier than a good Piadina Romagnola, a poor recipe with ancient origins loved, but loved and appreciated all over the world.
Keep reading "