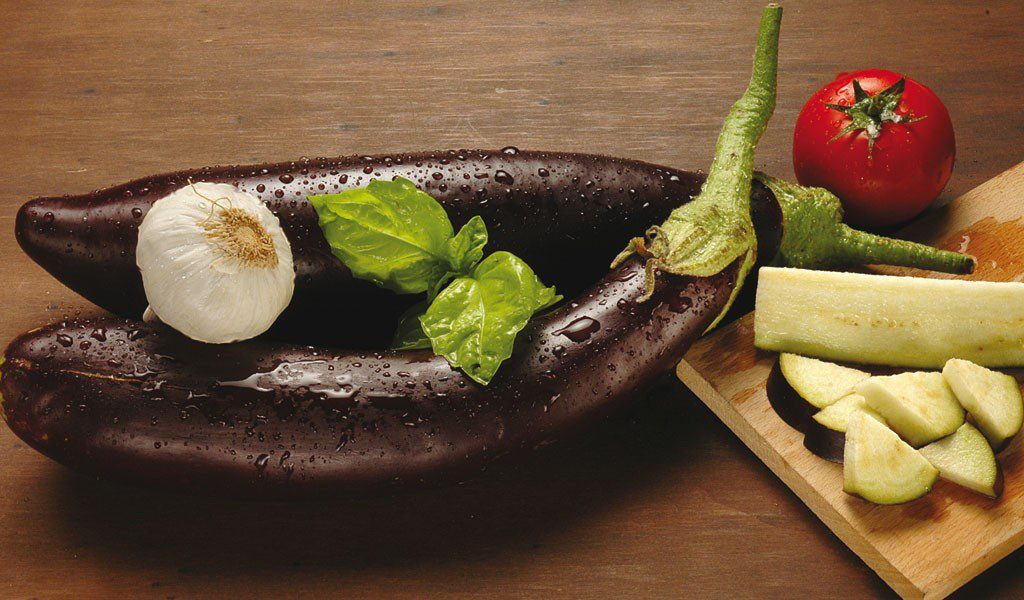 The Long Aubergine of Naples is a vegetable that has oblong-shaped fruits, dark purple in color, with a long peduncle and a rounded and / or slightly pointed tip. It belongs to the Solanaceae family, genus Solanum, an annual herbaceous plant, with an erect and branched stem. The leaves are large green and tomentose, the flowers are large purple. It has oblong fruits, dark black-brown in color with purple reflections. The size of the commercial fruit at harvest varies between 18 to 20 cm in length. 
The cultivation, carried out with the aid of support poles and wires, is entirely manual; the cultivation period varies from April to November and in this period of time it is possible to carry out several cultivation cycles, it can be grown both in open fields and in tunnels or greenhouses, the planting distance is 1m between the rows and 0.5 m on the row, with a number of plants per hectare is about 20,000. Harvesting takes place from July until late autumn. After the harvest, done by hand, the product is placed in wooden and / or plastic crates and sent to the markets.
The presence of aubergines in Europe is very ancient and was probably introduced in Europe by Arab merchants during the late Middle Ages. Like other plants belonging to the Solanaceae family, it was for a long time accompanied by a bad reputation; for this reason its diffusion in Europe began only from the 18th century, a period in which it began to become common in the tables of the people first and then of the nobility. The Neapolitan aubergine appreciated for its organoleptic properties as well as for its consistency and low propensity to oxidation is used in numerous gastronomic preparations mostly fried ("mushroom", "parmigiana", "stuffed"), but also baked, grilled , in oil or in combination with pasta.