There Classic Caputo Flour it is produced at low extraction without damage to proteins. Recommended for doughs with short rising times. Excellent for a light bread with soft, white crumb.
Ingredients: Type "00" soft wheat flour
Without the addition of additives and enzymes
Contains gluten. It may contain traces of soy
Keep in a cold and dry place
Average Nutritional Values
100g
%AR * / 100g
Energy value
1,481 kj
349 kcal
18%
17%
Fat
of which: saturated fatty acids
1.0 g
0.1 g
1%
1%
Carbohydrates
of which: sugars
73 g
1 g
28%
1%
Fibers
2.5 g
Proteins
12 g
23%
salt
0.017 g
0%
Type of flour
00
Bakery
W 220/240
Proteins
11.50% ± 0.50%
Elasticity
P / L 0.50 / 0.60
Leavening
Short
Professionals Line
25 kg flours, dedicated to professionals and masters of the white art, guarantee very high performance as well as top quality results for all types of processing, from bread to pizza.
Recipes with this product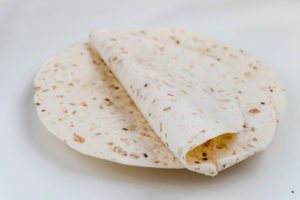 Recipes
There is nothing simpler and tastier than a good Piadina Romagnola, a poor recipe with ancient origins loved, but loved and appreciated all over the world.
Keep reading "